Viewing posts by Lindsey VanBuren
Posted by: Lindsey VanBuren 23 hours, 35 minutes ago

FOR IMMEDIATE RELEASE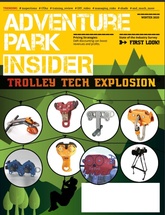 ACCT 2020: Challenge Course Practitioner Certification Exam
Presented by Challenge Design Innovations

ACCT CHALLENGE COURSE PRACTITIONER CERTIFICATION EXAM for Level 1 and Level 2

This ACCT 2020 Post-Conference workshop is designed for experienced operators/facilitators seeking a Level 1 or a Level 2 Challenge Course Practitioner Certification. Challenge Design Innovations will administer the ACCT-accredited certification testing to include a written and practical exams. Testing will take place at NCSU, a traditional-use challenge course.

Candidates for certification testing must submit a portfolio and resume documenting eligibility for the corresponding level, type, & system.

*Components & systems available for testing include: low/spotted, traditional static, vertical dynamic, & traversing dynamic, gravity-brake zip line, flying squirrel, & pamper pole. Contact [email protected] if you are seeking certification in additional components or systems.

*We highly recommend attending the ACCT 2020 general session workshop "Mastering the Written Exam" in order to better prepare for certification testing.

Learning Objectives:

– Obtain clear and constructive feedback on performance during written and practical exams for Level 1 or Level 2 Challenge Course Practitioner Certification; AND
– Understand the scope & limitations of Practitioner Certification and requirements for maintaining certification status; AND
– Obtain Level 1 or Level 2 Challenge Course Practitioner Certification; OR
– Obtain constructive feedback on requirements to remedy any failures and instructions for retesting.

Register at: http://acctconference.com/register/

You can still sign up even if you already registered for the conference.